When the term bisexual comes to mind, the first thought for most people is usually that of a young woman who is just oozing with sexuality. Some people would even classify this kind of woman as being sexually overcharged.
But what would you think if I told you that all humans are bi-curious by nature? I think that most people would have a hard time excepting this theory and would become uncomfortable with just the thought alone that they themselves just may be bi-curious. Men especially would find this theory a little hard to swallow, no pun intended.
The fact remains that bisexuality is nothing new to modern society and has been practiced by ancient man.
It might shock some people to learn that in ancient Greece, same-sex relationships were mandatory for the Spartans between the younger boys and the adult men. This was deemed acceptable so long as the men eventually married and had children. The belief was that love and erotic relationships between the experienced soldiers and the rookie soldiers would create a stronger bond and that the soldiers would fight more fearlessly as they wanted to impress their lovers.
However, in today's society, something like what occurred between the Spartans in ancient Greece would not be socially acceptable with modern man.
A man who engages in sexual acts with another man is quickly labeled as a homosexual, regardless of whether or not his sexual preference might lean more towards woman.
Woman, on the other hand, can engage in sexual relations with one another and not be automatically labeled as a lesbian. Most people would probably assume that the woman was "just being curious".
I have come up with my own beliefs about bisexuality that I'm sure many people would disagree with. But it's my theory, so what can you do?
My theory states that all humans on this earth exhibit some traits of bisexuality. That's not to say that all people act on it. It's just to say that the traits are there.
As children, we are curious about our bodies. It is this curiosity that often leads children as young as 4-years-old to explore their bisexuality among their peers, though this is more of a common occurrence between little girls then with little boys.
As adults, this trend continues. Women tend to be more open to the idea of experimenting with their bisexuality. It maybe due to the fact that woman have already become comfortable with this type of behavior from childhood. It could also have something to do with the fact that the behavior is more socially accepted by society. A woman, who is deemed bisexual, often becomes more desirable to men simply because most men have the ever recurring fantasy of being with two women at once.
Men however, tend to be classified as being homosexual if they even entertain the idea of experimenting with their bisexuality and are somewhat less desired by woman.
In a sense bisexuality may not even really exist. Most people who classify themselves as being bisexual will always have a stronger preference one way or the other, thus defining their sexual preference. But why do we feel the need to put people in one category or the other?
Simply stated: because it's human nature to do so. Having labels such as "straight", "gay" or "bi" lets others know what you prefer and whether or not it's safe for them to approach you if they're interested.
Bisexuality is the gray area of sexual orientation. Unlike being gay or straight, who have a sexual preference one way or the other, a bisexual can opt to go either way, which tends to confuse most people.
Alfred Kinsey, who was the founder of what is now referred to as "sexology", developed the Kinsey Scale which was designed as an attempt to measure sexual orientation.
This is a copy of the scale: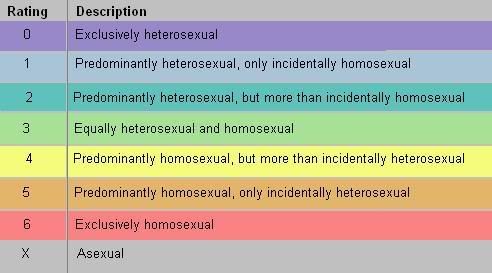 Because most straight women have a tendency to experiment with their bisexuality, they would be scored as either a 1 or 2, according to the scale. On the other hand, most straight men would score a 0 since they are less likely to toy around with their sexuality.
I, myself, would score about a 2 based on the Kinsey Scale. (Don't act surprised. Most women you know are probably the same way. They just don't admit to it. It is completely sexually healthy to have the occasional roll-in-the-hay with a member of the same sex. Besides, for a straight woman, it's the loophole to cheating).
Although most men would score a 0, according to the Kinsey Scale, it is my belief that straight men who are too worried to experiment physically with their bisexuality due to society standards, still find other ways to explore their bisexual side.
It is my belief that movies, such as Troy, Alexander, and the more recent 300, are all homoerotic movies created by men for men to serve the purpose of allowing straight men to safely somewhat indulge in their bi-curiosity without fear of being chastised or being labeled a homosexual, and all under the guise of the movie being labeled a War movie.
Straight men also tend to push their women partners into anal sex as a way to experiment with their bi-curiousness. Society does not considered this to be homosexual behavior since the men are penetrating a woman's anus as opposed to a mans anus, though it is really all the same.
The fact remains that whether you choose to admit to it or not, the human species, by nature, is bi-curious. There are many who may never act out on their curiosity, but the thoughts in their mind will always exist even if they never share it with another sole on this earth.
Like it or not, we are all bi-curious.