This is an email that I received from my aunt and her husband at the beginning of this year. It really pissed me off because I had had such a shitty year which my aunt had known about and yet she allowed her husband to send me this crappy ass email telling me about their wonderful year.

I've blanked out their faces from the photos just to be nice, though I didn't bother to change their names. I've also created a video highliting the key elements of the whole ordeal in case you're too lazy to read the emails.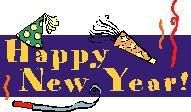 Belated Seasons Greetings 2006
This has been an eventful year for Bert and Soralla, beginning with our wedding and ending with house renovations that kept us living out of boxes until last weekend. Thus, it was difficult to get cards out on time, so we are sending this belated greeting through e-mail.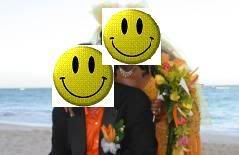 We began the year with a destination wedding. We spent a week in Punta Cana, Dominican Republic. A small group of friends and family joined us on this trip and had a great time on the sunny beaches of the Caribbean in an all inclusive resort. We drank lots of mamajuana, the native drink, and went on a couple of excursions, but spent most of the time enjoying the resort facilities and preparing for the wedding, which happened toward the end of the trip. Soralla's mom was her maid of honor and Bert's son Joshua was his best man. It took a few months to get the marriage license and then translate it into English and Soralla's official name now is Soralla F***********.
We had another great short weekend trip in March to New York, where we bought a time share associated with the Hilton. With all the other travel we've been doing, we haven't had a chance to go back there, but we used the points for a few days in Texas this summer and have been racking up points to use for future vacations.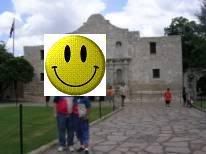 The sad news of the year was the death of Bert's mother in June. She has been ill and bedridden for several years and spent her last years surrounded by family in the home of his sister Altah. Thankfully she died peacefully in her sleep. The family all went to Texas to bury her in the small town of Cuero next to Bert's father. Since we were there, and Soralla had never been to Texas before, we decided to stay a few days longer. We had a nice hotel room at the San Antonio Hilton, overlooking the Riverwalk. We enjoyed the Mexican influence of the area, along with the Venice-type atmosphere of the river. We went on to spend a couple of days in Austin where we were able to visit with Bert's cousins and Soralla's aunt, uncle and cousin.
In August, we went to Miami and bough a second home for Soralla's mother. This is actually the first home we have owned together. We spent half the week looking at townhouses and the rest visiting her mom, going to the beach, etc. In September we went back for a long weekend for settlement. Her mother and boyfriend are enjoying this new home immensely.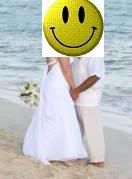 Then in November, Bert's daughter Ann-Marie got married. This was another destination wedding, this time in Playa del Carmen, Mexico, on the Yucatan peninsula. This was the first time meeting Ann-Marie's new in-laws. We became daredevils on this trip. We went on a zip line through the jungle, repelled down a sinkhole into a cave, snorkeled and went parasailing. We also took a side trip to Cozumel and the Mayan ruins at Tulum. We also enjoyed all the howler monkeys, agoutis and iguanas that roamed the resort.
Right after we returned from Mexico, Soralla started her new job as Budget Manager of the Baltimore City Public School System. She has jumped right in, working on next year's budget, and is enjoying the challenge.
For a lot of the fall we have been living in cramped quarters as everything on our first floor has been moved up or down so that the whole floor can be remodeled. This has taken longer than we ever thought and we especially missed having a kitchen. We never thought we could get tired of eating out, but it got old after a while. It is just now getting finished and we had our first breakfast in it 2 days before Christmas. That same day, we got a Christmas tree, which is now the only piece of furniture in the room.
We are now looking forward to our first anniversary next month, as well as to another wonderful and exciting year together. We wish you and your family a happy and prosperous new year.
Bert and Soralla
(Imagine, even the saddest part of their year turns into a vacation, that of course was wonderful. Good for them! Must be nice to be so well off!)
As I stated, my year had been pretty rough, and I really didn't see the point in them throwing all this shit in my face. I'm not normally such a cynical person, nor am I jealous, but come on, have some respect for those of us who aren't as fortunate to turn our bad moments into another vacation getaway.

I had to respond to this email, and I kid you not, it must've taken me about 10 minutes to write my own little reply to the happy couple. This is the email I sent them:
Happy Fucking New Year!
Here's a little recap of 2006 just for you!
I'm sure you remember that we bought a house. But that was in December of 2005 so that's don't count. In January, my whole family flew out to Punta Cana, DR for a Soralla and Bert's fabulous wedding (well so I heard it was fabulous). I wouldn't know for sure because I couldn't attend since I was broke and all after buying a new house and Christmas had just passed. Mind you I only had $200 to spend that Christmas to begin with, so I don't have to really tell you how broke I was. From what I heard about the wedding, sounds like everyone had a blast. Everyone except me who was still stuck here, in the States, but whatever.
Sometime in February, Billy took out a loan on his Saab without my knowledge cause apparently we were already going through some financial difficulties that I wasn't aware of since he never told me. Citibank appraised his car at $10,000 and gave him a loan for that amount. Of course with interest and all, he'll have to repay them $15,000. I probably should've known we'd have financially difficulties early on since he was only making $14/hr and our mortgage was $1700/mo. You do the math.
By March, he had managed to get himself quite a raise. $20/hr! But with a $1700 monthly mortgage and other bills... Go ahead... You do the math.

In a month, the $10,000 loan was gone. Yep! All gone. What did it get spent on? I'll give you one guess. BILLS. Ain't that some shit!
But our whole year wasn't shitty. In February, we found out that Billy's sister Glenda was pregnant with 'oooppps baby' number 2. And later in March, my own sister admitted to also being pregnant with baby number 2. What a coincidence since they were both pregnant together the 1st time around!
In May, nothing eventful happened to me cause I was too fucking broke to celebrate my birthday. However, on May 22, 2006, Glenda married Fredo at the courthouse. It wasn't the way the couple had planned to marry, but Glenda didn't have any health insurance, and wasn't eligible for Medicaid since the new law, (Thanks to President Bush), states that anyone who didn't have their greencard prior to June 2003 is no longer eligible to apply for Medicaid. Glenda got her greencard in August of 2003, just missing the deadline by 2 months. So she and Fredo married so that his health insurance from his job could cover her. Congrats on the wedding, guys! I was the only witness at the wedding and we didn't really get a chance to take photos since we were in and out in about 5 minutes.
Oh well, Ce'st la Vie. We can't all have big fancy weddings in Punta Cana, DR, now can we?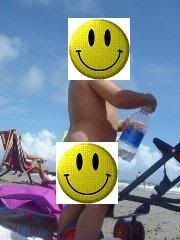 June was a pretty eventful month. We took a trip to Myrtle Beach. We got to go free since it was one of those Timeshare things. God knows that's the only way we can afford a vacation. It was great though, probably one of the highlights of my year.
Later in June, Elena gave birth to her second child, Tayla. Of course I couldn't be there cause I was too fucking broke to fly out to L.A.
In July, we missed our first mortgage payment. Turns out that little vacations in Myrtle Beach would have bigger repercussions then we thought.
In August, we celebrated Angel's 1st birthday. What a miracle that either of us made it through our 1st year together.
We also missed our 2nd mortgage payment in a row.
I took a job with Cantrell, Inc. who runs a series of phone sex services, to help pay bills.
However, somehow, in September we were able to pay off our mortgage for that month, but then things took a turn for the worse.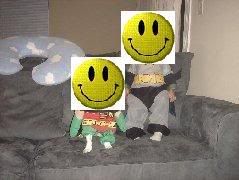 In October we missed our 3rd mortgage payment and we were facing foreclosure. This was definitely our low point of the year as we had no money and had no idea how the hell we were going to get out of this situation. We ended up having to ask various family members for help cause we were so desperate. Luckily we got out asses out that hole. Great Halloween picture of Angel and Oscar, though.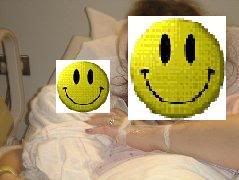 In November, we were so broke from paying 3 months of backed up mortgage that we fell behind on all of our other bills. So now we're trying to play catch up with those bills, and we have bill collectors calling us like 5 times a day. Oh yea, and Glenda gave birth to her 2nd child. Congrats.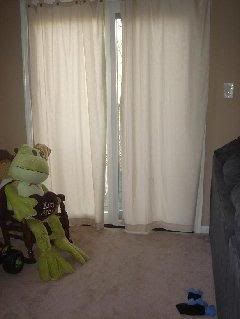 See this empty corner? This is where our Christmas tree would've gone, but we were too broke to buy a tree so the corner stayed empty and Christmas this year didn't even bother coming to our house. After such a long bad year with all our financial issues, the Christmas spirit must've died on it's way cause we never felt it. Oh by the way Soralla, thanx for the Snoopy Christmas Ornament. I'll be sure to hang it on my invisible Christmas tree.
Oh and my grades for the semester are on hold cause I couldn't pay my tuition, so I own PGCC like $500 or I won't find out my grade or be able to enroll for the coming semester.
It's nice to see that all the White People in White America are doing so well. Just the way Bush wanted it. Congratulations on turning white. That seems to be your biggest accomplishment of the year.
I'm sure I won't always be so financially unstable, but whenever I do get my shit together, I'll make sure not to send people newsletters at the end of the year to remind them of what a shitty year they had.
Soraya
Happy Fucking New Year!
Some people claim that I was a little too evil and cynical. I didn't mean to be, but I just couldn't help myself. I felt that if they wanted to share with me how great their year was, maybe I should share with them how crappy my year was with them.

Sending them this email actually served me 2 purposes:
1. They both felt so guilty about what I crappy year I had had that they ended up paying the $500 that I owed my school to release my grades.
2. They took me off their mailing list, ensuring that I will never receive another email about their oh-so-wonderful life.